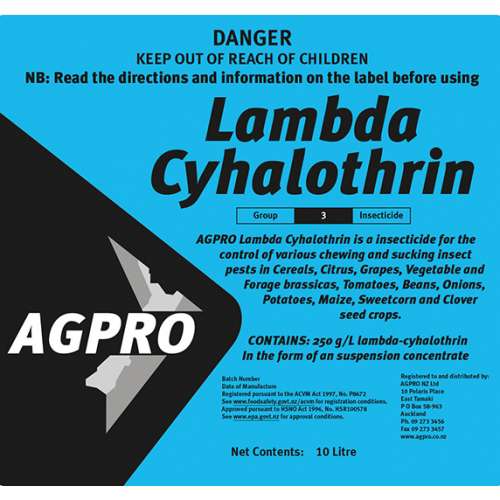 Lambda-Cyhalothrin
All prices noted are GST exclusive.
Shipping conditions at checkout.
Certified Handler Certificate required purchasing this product.
Email a copy of your valid certificate to us please.
Available bigger pack size POA - phone office for pricing
Scroll down to see available options
250g/L lambda-cyhalothrin in the form of a suspension concentrate
AGPRO Lambda-Cyhalothrin is the best of the pyrethroid insecticides controlling pests in cereals, grapes, vegetable brassicas, beans, onions, tomatoes, sweetcorn, potatoes, grapes, white clover, seed crops, citrus and ornamentals. AGPRO Lambda-Cyhalothrin is a fast acting contact and stomach insecticide and is relatively stable in sunlight allowing longer persistence on the plant. AGPRO's new larger pack sizes allows potato growers the economics at the higher rate to control pysillids.