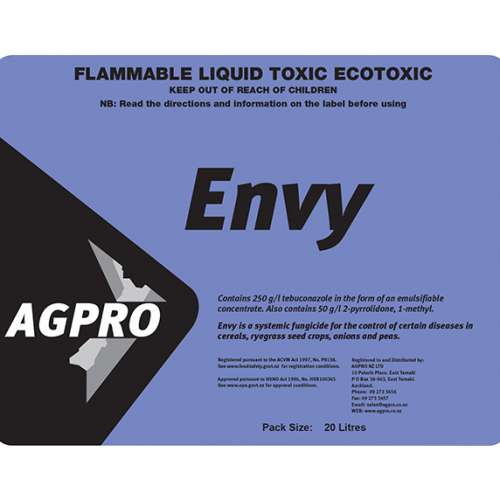 Envy
Contact us for pricing
All prices noted are GST exclusive, delivery inclusive,
see delivery conditions at checkout.
Scroll down to see available options
250 g/L tebuconazole in the form of an emulsifiable concentrate
A systemic fungicide for the control of white rot in onions, glume blotch, powdery mildew, speckled leaf blotch, stripe rust and ear disease in wheat, leaf rust, net blotch, ovularia, spot blotch and ear disease in barley, crown rust on oats, blind seed disease, crown rust and stem rust in ryegrass and powdery mildew in peas. Due to the systemic nature of the product being translocated in an upwards and outwards movement in the plant, this provides some protection to new growth.