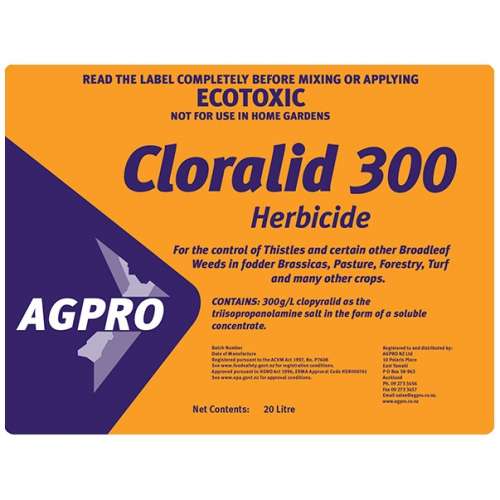 AGPRO Cloralid 300
All prices noted are GST exclusive.
Shipping conditions at checkout.
Available in 20L container - POA - phone office for pricing
Please note that your order will be dispatched in the first week of January 2021.

Scroll down to see available options
300 g/L clopyralid as the amine salt in the form of a soluble concentrate
A selective herbicide for the control of most thistles, yarrow, plantains, and especially useful to enhance the efficiency of AGPRO 2,4-D where Californian Thistles are prevalent. Also controls emerging fleabane, and many other difficult to control weeds in forestry sites. AGPRO Cloralid 300 can be used to assist in the suppression of broom after planting (radiata only).